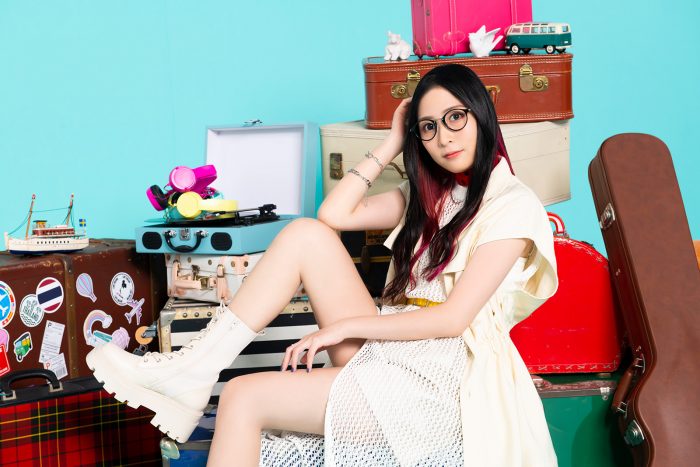 [sourceLink asin="" asin_jp="" cdj_product_id="" text="twitter" url="https://twitter.com/animenyc/status/1588687794037264387?s=20&t=D4IVTjKi5OGEaZ991dMPtw" ]
Originally a small-time YouTuber, Thai singer MindaRyn found her career exploding in the last several years as she has gone from YouTuber to creating original songs used in various anime like That Time I Got Reincarnated as a Slime and Arifureta: From Commonplace to World's Strongest Season 2. MindaRyn graced us with an excellent performance for That Time I Got Reincarnated as a Slime Special Event @ Anime NYC and a wonderful interview that we would love to share with you, today!
Interview with MindaRyn
[gray-hex-decoration]

How did it feel going from a small-time YouTuber covering songs to making original songs? How has that felt?

Firstly, I feel like it's a dream come true because I always wanted to become an anime singer as it was my dream. But I do feel the difference between doing a cover and doing an original song. Back then when I was doing a cover I would sing a song that belonged to another but I tried to adapt it to my own style. Now that I sing an original song, everything comes from me so before I sing, I have to think a lot, I have to research, and I have to know what style I want to come across so all the emotions and expressions come through!

Is there a specific muse that you're really passionate about that helps you make/create a song?

I really love LiSA! I love her so much! She is my idol and I really want to be like her! Not only with how she sings but her characteristics which are very forward and sincere. She really cares about the people around her and she really cares about her fans so I really want to be a person like her.

What is a song you've done/covered that has stuck with you as being your best work or songs?

I did my best with every work but if I have to pick one it would be Like Flames from That Time I Got Reincarnated as a Slime Season 2 Opening 2. I really love That Time I Got Reincarnated as a Slime so when I got a chance to sing I was really glad and I felt the pressure! I did a lot of research, I practiced a lot, and when the song was released it made people all around the world know about me so it is a very important song for me.

Has becoming famous ever interfered with your personal life or made it difficult to do your hobbies?

Definitely! Not in a bad way but when I was doing a cover I would do it just for fun and because I loved my fans and subscribers. I enjoyed every day just choosing a song that I liked and doing a cover and there was no pressure to release a new video every week. Now becoming a real artist my world has changed as I am surrounded by a lot of professionals as people are so dang good and I need to keep running. If I spend a day playing a game I feel useless! I need to practice! I do feel the need to still have one day for rest but I want to practice all the time!

Is there an anime opening or ending you'd like to cover?

I really love anisongs so if you ask me this question next year it will change! Right now, though, I really love Ado's songs, like the song in One Piece: Red called New Genesis. I feel like her technique of singing is so impressive and I know it would be very difficult to sing but it would be fun to sing and I would love to try!

Are there any specific moves or motions you go through before singing that really help you get into the zone and get ready for the audience?

Before going to the stage, I just did it a moment ago, I got nervous. I go and hug the stuff around me! I hug the staff and get their power and use that power to help me on stage! Also, when I perform with a band in Japan I put my hands in with them, say something passionate, and then yell, YAY!

Do you ever find it difficult, since we know you sing in different languages, to switch between them?

When it comes to singing it is quite natural since all the lyrics are already set. Though when I speak, it can sometimes be difficult if I'm speaking English.

What inspired you to start YouTube? To even do anime covers?

Back then I was a very shy person, I didn't have many friends. The friends I had didn't really share the same hobbies. So I couldn't talk about anisongs with anyone. So I chose the internet even though it sounds like a silly starting point.

Is there a certain setting you prefer to sing? Like a larger audience for a concert?

Ohhh, I prefer anywhere because I want to deliver my songs to anyone in the world at any time. So the size of the venue doesn't matter to me, just the amount of passion I drive forward.

Since you mentioned you were shy, has singing impacted your life and made you more confident, or do you still have that shyness?

Since I made my channel I have met a lot of people. Back then I wasn't very confident in my singing voice as well but after doing this channel and a lot of people came to listen to my songs and said things like "we really love your voice" or "you're doing great", I got power from those comments and became more confident. Also about speaking, I didn't have speaking skills but after doing YouTube, I feel like I want to connect more with the people who follow me and I started to do more live streams. So that's why I can practice my speaking skills and it has changed me a lot!

What is one of your biggest accomplishments so far that you've had from your singing career?

I think meeting a lot of people who have the same passion and the same likes helps me realize my dreams.

Do you prefer singing alone or with others as a more exciting opportunity?

I prefer both! After I debuted I didn't get to do duets but I did do covers with my senpai back then. When I was doing covers I did a lot of collaborations with many YouTubers as it was really fun as he/she had the same passion for anisongs. It is a really good feeling to do something with friends and upload it on YouTube and have a lot of people really like it!

Do you want to do an opening or ending song for a video game?

Definitely! I really love playing video games like Nier Automata! I love Nier and the songs, it would be an honor to possibly do one in the future!

Have you ever imagined this level of success?

Not at all! It was always my dream, I imagined singing in front of a lot of people and I imagined being happy doing what I love, and when the chance came I grabbed it!

What is one thing you love about fans with how they love your music? Do you like their energy and when they sing with you?

I think when an artist sees their fans with unconditional love you can feel their love. I can feel a lot of love that they are giving to me.
---
Final Thoughts

We wrapped up the interview with a final question that went along the lines of what would you tell your fans or those who aspire to be like you? The final lines MindaRyn delivered sum up how amazing this woman is and how we only hope she continues to shine as a singer and deliver even more wonderful music to her audiences worldwide!
MindaRyn (Answer)
I don't think I can give the best advice as I'm still trying to improve myself every day. But to those who are trying for the same dream as me, keep believing no matter what others say about you or your hobbies. Just keep doing your best and believing in your dreams.
[author author_id="078″ author="" translator_id=""] [ad_bottom class="mt40″]
---
[recommendedPost post_id='355144′ url="" title="" img=" class="" widget_title=""] [recommendedPost post_id='340726′ url="" title="" img=" class="" widget_title=""] [recommendedPost post_id='332426′ url="" title="" img=" class="" widget_title=""] [recommendedPost post_id='326175′ url="" title="" img=" class="" widget_title=""]
Source link