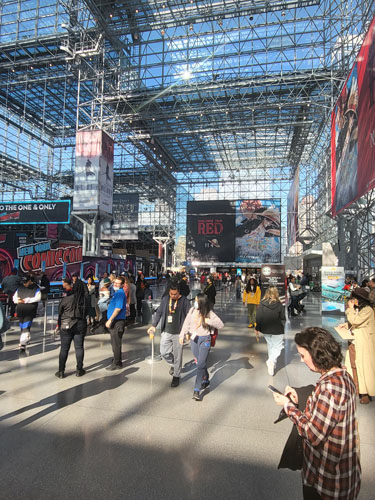 Intro
Despite the last several years being quite difficult for convention goers—due to the pandemic and the various restrictions surrounding it—which has made going to all conventions a true challenge. New York Comic Con has done an excellent job trying to keep the convention going despite these issues and we have to applaud the staff and convention team for doing an amazing job throughout! NYCC 2022 has begun to show that the pandemic—while not gone fully—is more controlled as the entire convention felt quite different this year than the last few. We have a lot to say about NYCC 2022 as our experience this year was quite extraordinary and we're sure you readers want to see how we, here at Honey's Anime, felt about one of our absolute favorite conventions to be found in the big apple.
Here are our thoughts on NYCC 2022 and maybe some tips/info to help you next time you decide to dive into one of the biggest gatherings of comics, anime, and video games!
Basic Info
Website
https://www.newyorkcomiccon.com/
When it Established
The first New York City Comic Con launched around 2006!
Length of Event
4 Days (Thursday-Sunday)
Place/Location
Jacob K. Javits Convention Center
COST
With rising prices, NYCC 2022 prices were also quite boosted. There were plenty of ways to save if you wanted to do multiple days but the price of individual days did go up a bit as we're about to show. Still, you can't deny the price for how much you can do and see still outweighs how your wallet might feel after.

VIP Tickets, which include all 4 days, were the most expensive bundle at $502.75.
4-Day Passes – $212.75
Single Day Tickets are as follows:

Thursday – $80
Friday – $80
Saturday – $80
Sunday – $80

Kids' ticket prices (for those 6-12 years of age) were $35 on Sunday
Those who also might still be a bit weary of large crowds could also have done a digital ticket which included all 4 days, VOD of the panels, and exclusive access to merchandise.

As compared to the previous few years, prices went up a bit but we will tell you that NYCC 2022 was a lot larger this year having more floors/areas to access making the prices a bit more understandable.

Hotels
Manhattan, AKA The Big Apple, is one of the biggest tourist hubs of NY/NYC so there are plenty of hotel options for those who are from out of state—or possibly other countries—and need a place to rest/to recover after a long day of the convention. Be aware though, prices won't be discussed here as NYCC 2022 does cause prices for hotel stays to be increased and fluctuate quite a bit. Here are some hotels both close and further away you may want to consider next year:

Courtyard by Marriott New York Manhattan/Midtown
EVEN Hotel New York-Times Square
La Quinta Inn & Suites by Wyndham Times Square

Remember, NYC has numerous ways to travel such as using the pretty affordable subway systems and taxis. You don't ever need a hotel right near the convention as you could even walk through most of NYC. Still, being closer to the convention is a convenient way to drop off the merchandise you might buy and avoid being overly tired after a long day of walking the event halls. Just expect higher prices for closer hotel locations that could cost almost the price for the entire convention…

Company/Event Message for Fans/Attendees
"New York Comic Con- The biggest and most exciting popular culture convention on the East Coast!"
---
NYCC 2022 was—and we aren't joking—the biggest version of Comic-Con we've seen in the last decade. There were an estimated 200,000 attendees and unlike previous years, they opened up more of the convention center. Now, participants could go up to the 4th floor—for panels and other rooms like the press room—which was never seen in other years of NYCC. This led to much more organized events as panels were given their own conference-like rooms and had larger capacities than how they usually had them on the lower floors.
The Artist alley was also given a more significant section ensuring artists and those who wished to purchase their works, could find more to look at and buy too! NYCC 2022 was filled to the brim with panels that ranged from popular western franchises like Star Wars and Back to the Future! Despite the con being about comic books, there were tons of anime panels to go to as well, with guest appearances from various voice actors like Chris Sabat, Colleen Clinkenbeard, and Justin Briner. Fans could obviously get their photos taken, talk to these incredible folks, and/or just see some of their favorite anime dub voice actors live and in person! Panels were filled quite quickly this year—even we had some problems getting to some, unfortunately—so always prepare to get to a panel line early and possibly sit/chill till the panel starts!
We loved the diverse nature of events this year too, as there was a little bit of everything, some early showings of trailers, some gameplay footage from titles like One Piece: Odyssey—which could be played and looked stunning—and some coverage of games from the popular Yu-Gi-Oh! series, in this case, Yu-Gi-Oh! Cross Duel! Obviously, if you weren't going to NYCC 2022 for anime/games there was a slew of comics to buy and merchandise to nab that ranged from some extremely collectible comics—that were graded as well—to even some cards from popular works. NYCC 2022 was truly a bigger event than we've seen before and it made up for the smaller scales the last few years had to utilize due to pandemic problems.
Going to any convention, it is important to know what you need to survive—not literally—as these events can be tiring for those unprepared. First, we suggest bringing backpacks and/or bags. While you can nab free totes and other bags from the convention itself, you may need extra room to store items like figures, pins, and other smaller goodies! We also suggest wearing light clothing as you'll probably be walking more than you usually are accustomed to. We hit nearly 6 miles just walking through some areas of the convention and didn't even see everything NYCC 2022 had to offer! You may also want to bring snacks and water just in case lines for food vendors are too long or you wish to save some money. Seriously, folks, food was readily available at NYCC 2022 but the prices were no joke and just eating a meal or two could set you back quite a bit.
We also HIGHLY advise bringing surgical masks and hand sanitizer. NYCC 2022 was enforcing a mask policy but we saw plenty of patrons forgot to bring masks entirely, which is understandable but makes roaming around the crowded areas a bit of a medical risk. You're going to possibly be shaking hands with famous folks and touching tons of merch you're interested in buying so having some hand sanitizer is a good way to keep yourself safe.
Lastly, USE THE APP/GUIDE BOOK!!! A common mistake made by most who are possibly going to NYCC for their first time is to think they can just explore and not waste precious time. Sadly, your best way to navigate NYCC 2022 is to utilize the app which shows when panels are going to be, where certain vendors are located and how to map out where the best paths to go are. The guidebook is a more physical means of doing the same thing but we liked looking at it as the wi-fi could sometimes be weak. There is nothing wrong about going to an event like NYCC 2022 and winging it but we think the best way to get the most out of your days is to know what you want to do beforehand and adjust accordingly!
NYCC 2022 offered plenty of panels/events regardless of your tastes in media. We saw popular rappers like DMC which shows the amazing variety of people to meet and things to witness at NYCC. As we mentioned above, there was no shortage of events/panels/people in NYCC 2022 and we again recommend using the app or guidebooks to take a gander at what you can do while there on a particular day.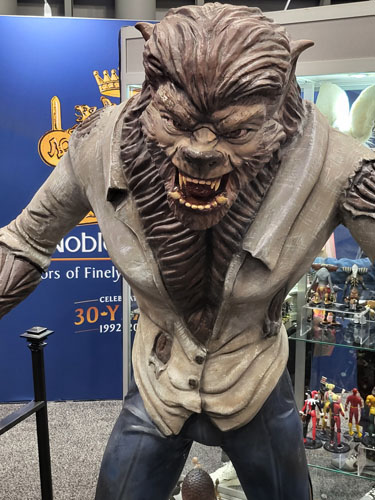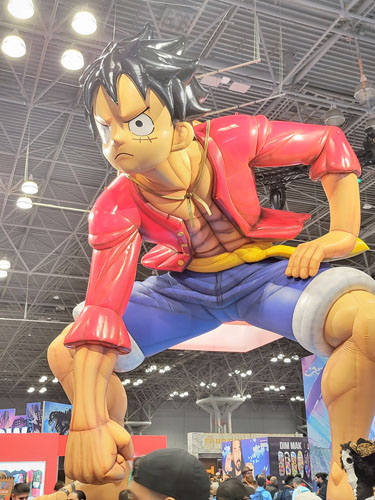 We plan on discussing the cosplay of NYCC 2022 in a future article as we got some cool shots/photos but we will say, whether you love anime or comics, the cosplayer numbers at NYCC 2022 were incredible. We saw people dressed from characters in Chainsaw Man to their favorite heroes like Deadpool. Look forward to our article where we take a look at several cosplay we really loved in an upcoming cosplay-focused article!
---
Final Thoughts
NYCC 2022 was huge this year and really made the sense of normality return for a brief moment. We wished we could have spent more time at the convention but our feet were worn and we literally had almost zero energy by the event closing on Sunday. Still, NYCC 2022 was probably one of the largest NYCCs to date and we hope it only grows next year!
Did any of you readers go to NYCC 2022? What were some of your favorite experiences from it!? Tell us and everyone else in the comment section below! Be sure to keep stuck to our convention-crazy hive here at Honey's Anime for more coverage of your favorite conventions and plenty of other amazing articles!
---
Source link