"Friendship and Romance Perfected"
Mangaka : Mizuno Minami
Publisher : Viz
Genre : Comedy, Romance, School Life, Shoujo, Slice of Life
Published : December 2022
Male friendship in manga is, quite sadly, often limited to the edgy muscle-heads of shounen. Rare, genuine friendship is so rarely depicted on the pages, and even then, once a romance begins, one or more male characters will usually get shuffled off-screen.
We're so glad, then, to have Rainbow Days by Mizuno Minami—a beautiful love letter to male friendships and supporting your friends through the highs and lows of life. Finally arriving in English a full decade after its debut in Japan (and six years after its anime adaptation), this beautiful series is a must-read for shoujo fans!
Join us today on Honey's Anime as we discuss Rainbow Days, Vol 1!
As we mentioned earlier, male friendships are the beating heart of Rainbow Days, with four high school boys taking center stage. Our main protagonist is Natsuki, a hopeless romantic who's looking for a shoujo-manga-romance of his own. He's joined by Keiichi, an extrovert with a love of BDSM whips; Tsuyoshi, a quiet and reserved otaku; and Tomoya, a frivolous playboy who's always dating multiple girls.
When Natsuki is dumped on Christmas Eve, he has a chance encounter with a beautiful girl dressed as Santa—and then discovers she goes to his school! With dreams of his perfect romance in his head, Natsuki plans to make this Santa-girl his own…or, he would, if he wasn't so hopeless at romance!
With help from his friends, Natsuki eventually meets his Santa—Kobayakawa—properly, and their friendship begins for real. Of course, that just means Natsuki has to put up with interference and teasing from the other guys!
The artwork in Rainbow Days feels pretty average for a shoujo romance, but you have to remember the series is over a decade old at this point. For a 2012 shoujo, it's pretty on-point; what really makes the manga shine is the comedic beats and the side-lined dialogue that perfectly encapsulates each of the boys. When it needs to, Rainbow Days can really shine with some beautiful artwork, and the mangaka excels at capturing both the serious and humorous sides of her characters.
Why You Should Read Rainbow Days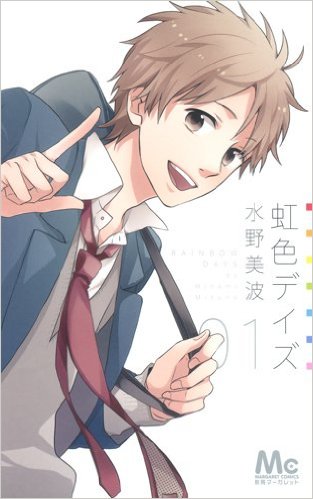 1. Superb Characterization
Each of the boys feels so genuinely loved by the mangaka, as though they were fully conceptualized before coming to life on the page. Their continuous bantering feels realistic, giving rise to heartfelt moments and laugh-out-loud gags. Kobayakawa coming on stage doesn't detract from their friendship, but instead adds a new layer of depth, especially as Natsuki's friends help(?) him with his crush.
Although the series is largely a funny one, we can detect an undercurrent of seriousness that'll emerge later in the series, and we're fully expecting these characters to really shine when the drama heats up!
2. Shoujo Comedy Club
Comedy is always subjective, so we're only offering our personal view here, but Rainbow Days is surprisingly funny. A lot of shoujo series err on the side of romantic drama, at least in our experience, and comedy is often used as a defensive measure to avoid progressing relationships too much (think confession scenes being interrupted, for instance).
The comedic beats in Rainbow Days come when you're least expecting them. The boys are always bantering and joking about, but recurring gags (like Keiichi always carrying a whip) pop up just when you've forgotten about them. The jokes really stick their landing and help cement the genuine friendship between the boys.
---
Rainbow Days is the perfect blend of friendship and romance, and offers a lens into male friendship that's sorely lacking in many shoujo and shounen series. There's genuine love and camaraderie between the boys, and rather than having the brewing romance take away from that, their shared friendship will help lift each other up to greater heights.
Are you going to check out Rainbow Days, Vol 1? Let us know down in the comments below, and as always, thanks for reading!
---
Source link