December 8, 2022
·


0 comments
We know that so many of you have already experienced the phenomenal One Piece Film: Red on the big screen. However, if you still haven't caught the movie – or you have seen it but are dying to watch it again – then you'll want to make sure you're ready to hit up the cinema this weekend for your FINAL CHANCE to catch this incredible film before it leaves cinemas.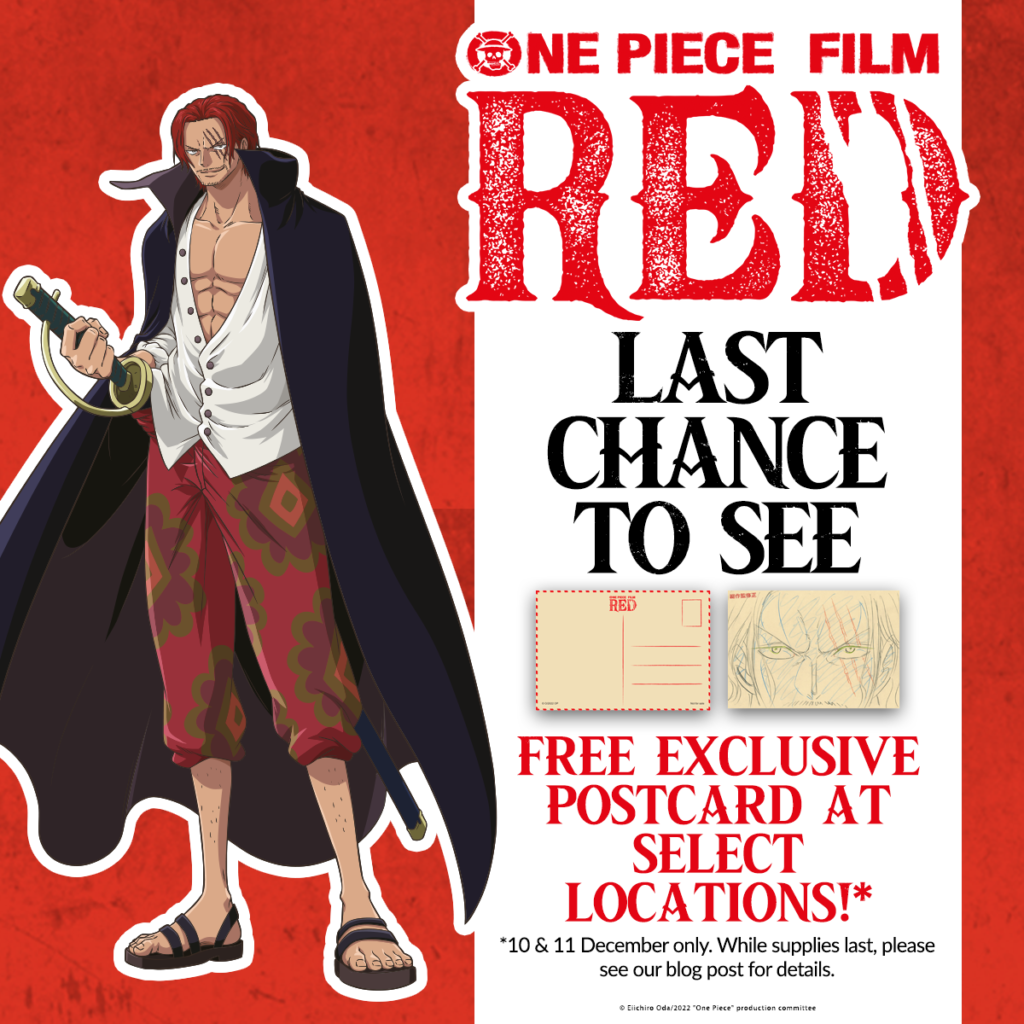 Screenings are taking place in various locations this coming weekend – December 10th and 11th – so book your tickets now so that you don't miss out!
And that's not all! Select locations will also be giving away a free postcard with some glorious artwork while supplies last, so there's no better reason to head for the cinema this weekend for one of the films of the year!
Tickets are available for these last chance screenings at the following locations:
Cineworld
Basildon
Crawley
Enfield
Feltham
O2 London
Wandsworth
Wembley
Empire
High Wycombe
Slough
Sutton
Walthamstow
ODEON
London West End
Vue
Bicester
Bromley 
Cambridge
Cheshire Oaks
Croydon Grants
Croydon Purley Way
Dagenham 
Dublin
Exeter
Farnborough
Finchley Road
Fulham 
Glasgow St Enoch
Hamilton
Harrow 
Leeds Light
Manchester Print Works
Merthyr
Newcastle UL
Northampton
Oxford
Piccadilly 
Plymouth
Preston
Reading
Romford 
Shepherds Bush
Staines 
Star City
Swansea
Thanet
Thurrock 
Watford 
West End
Westfield 
Westfield Stratford
Wood Green
Synopsis:
Uta — the most beloved singer in the world. Renowned for concealing her own identity when performing, her voice has come to be described as "otherworldly." Now, for the first time ever, Uta will reveal herself to the world at a live concert. As the venue fills with all kinds of Uta fans — excited pirates, the Navy watching closely, and the Straw Hats led by Luffy who simply came to enjoy her sonorous performance — the voice that the whole world has been waiting for is about to resound. The story begins with the shocking fact that she is Shanks' daughter.
Source link