By Helen McCarthy.
From the first episodes of the Revolutionary Girl Utena anime series, director Kunihiko Ikuhara delivers a format packed with new ideas and a number of classic riffs. As a girl, we are told, Utena lost her parents, but remembers being comforted by a gallant prince on a white horse. The impressionable child never forgot the prince's kindness, and resolved when she grew up to become not a princess, but a prince. She joins prestigious Otori Academy, the curviest tomboy to refuse to wear a sailor suit, and aspires to be an elite duellist. All she needs is a damsel in distress and opponents worthy of her steel.
The long climb up to the duellists' platform is repeated each time Utena goes to fight, echoing the 'launch sequences' of Japanese giant robot shows; second time around there's a magical girl-type costume change. The frequent bravura displays mask Ikuhara's dives into a number of minor plotholes, and the constant stylistic chopping is visually akin to being on a boat on the high seas: you never know where the next new wave will take you.  By the third episode the director has realised that, just because you can do anything you like in animation, you don't have to. He starts to select the tricks that work for him (the shadow-play exposition sequences, for example) and discard the ones that don't.
In 1997, as the shockwaves generated by Gainax's mould-breaking TV series Evangelion began to die down, the Japanese animation magazines awoke to a world in which it was once again possible to put another set of characters on their covers and still sell magazines. They began to hunt for something to fill the void.
It had to be something that looked completely different, but felt approximately the same at heart. That was not because the generation of Eva clones then springing up lacked the twisted inspiration or desperate drive of the original; the motive was much less complex.
Anime magazines sold themselves on their covers. Obviously, magazines want to carry the most popular series, but they also want to be the first to break the Next Big Thing, and to give a helping hand to the anime companies and their own balance sheets by drawing in new fans and keeping the existing ones interested. To compete for customers' attention, the Next Big Thing has to look as unlike the previous hit as possible.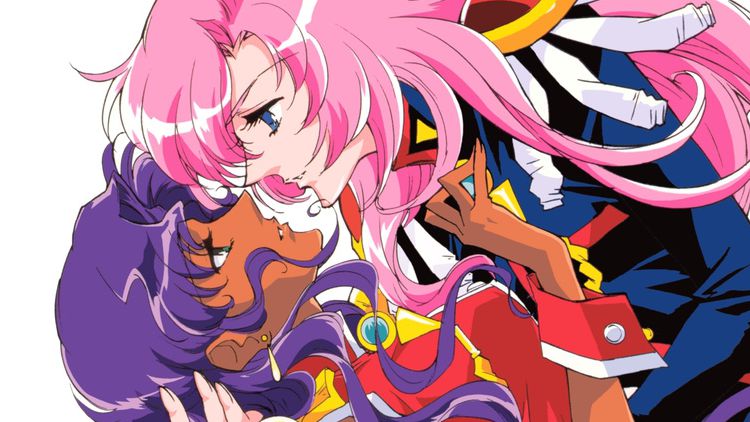 After Eva, anime needed something sexy, colourful, playful, with a different kind of tension. Along came Revolutionary Girl Utena, hitting Japanese TV like a breath of rose-scented air after the blood-soaked teenage torture garden that was Evangelion. Yet Utena carried its own blood spatter pattern, not from a robot weapon but from a blade buried in a girl's heart.
For months, Utena dominated the covers and lead features of the three major anime magazines – zappy Animedia, thoughtful Animage and the legendary Newtype, whose loyalty to the Gundam multiverse didn't prevent it hyping new hits. Creepy, delusional adults didn't dominate this show; teenagers drove the plot. Heroine Utena was nothing like Eva's broken blossoms; she was cute, sexy, forthright and positive, convinced that some day her prince will come, determined that when he arrives he'll find a comrade worthy of his respect. The story piled in girls, uniforms, swords, cross-dressing, neo-European settings, intrigue and romance in an elite boarding school beyond Harry Potter's wildest dreams.
Revolutionary Girl Utena had it all: looks, style and a great media buzz. Its media buzz came largely from the fact that it looked so fresh. Pop stars are made of this – but those that last deliver something beyond a new look, especially in today's media market. Magazine covers are passé now, even in Japan, where the market for print has shrunk in each of the past fifteen years. Most fans consume their images on small screens where the grandiose has to fit in the palm of your hand. The whole idea of the independent, self-determined female is under attack. What does Utena have to offer in the era of mobile phones, #GamerGate and #MeToo?
The anime market, like all media, renews itself by attracting new consumers. Its classics are soon forgotten, given lip service but rarely watched. There had been robot mega-hits before Eva, there had been cross-dressing fighting females before Utena, but new fans stumbling across old shows on YouTube or in a convention screening room complained of slow, creaky yawn-fests. A hit show with respectable old-school roots – a classic storyline, a writer's or director's pedigree, a link to earlier success – needs a new angle of attack on a market that's increasingly hard to penetrate.
In a Western context it sounds completely counter-intuitive that the way Utena developed, let alone the way to celebrate its 20th anniversary and speak to a new generation, was through the medium of the musical. In Britain and America, musicals are rarely seen by anyone under twenty unless they're Disney-based. Yet Japanese audiences have flocked to musicals based on their favourite anime and manga for decades.
The first ever stage musical based on manga opened in 1974.  The Takarazuka Theatre Troupe presented Riyoko Ikeda's epic The Rose of Versailles (pictured above) the story of a cross-dressing sword-fighting girl at the court of France around the time of the Revolution. (Yes, the Utena connection is screamingly obvious: cross-dressing girls, swords, elite European settings.)
The Takarazuka troupe, founded in 1913 to attract customers to the resort town of Takarazuka, is unique. It presents lavish song and dance epics with all roles played by young women. Utena's plot antecedents go back to one of Takarazuka's uberfans, manga superstar Osamu Tezuka, a childhood resident of the town. His 1953 cross-dressing girl sword-fighter manga Princess Knight was his homage to Takarazuka.
Princess Knight in turn inspired The Rose of Versailles, later presented on the Takarazuka stage. Both manga inspired Utena. In December 1997 Utena, now a TV hit, came home to her musical extravaganza roots. A "Takarazuka-style" all-female production production of Girl Revolution Utena The Musical Comedy, directed by Yuji Mitsuya, premiered in Tokyo's Hakuhinkan Theatre. Retired Takarazukienne Yuu Daiki played cross-dressing sword-fighting heroine Utena. In 1989's Takarazuka production of The Rose of Versailles: Fersen & Marie Anoinette, Yuu played cross-dressing sword-fighting heroine Oscar. Self-reference couldn't get more post-modern.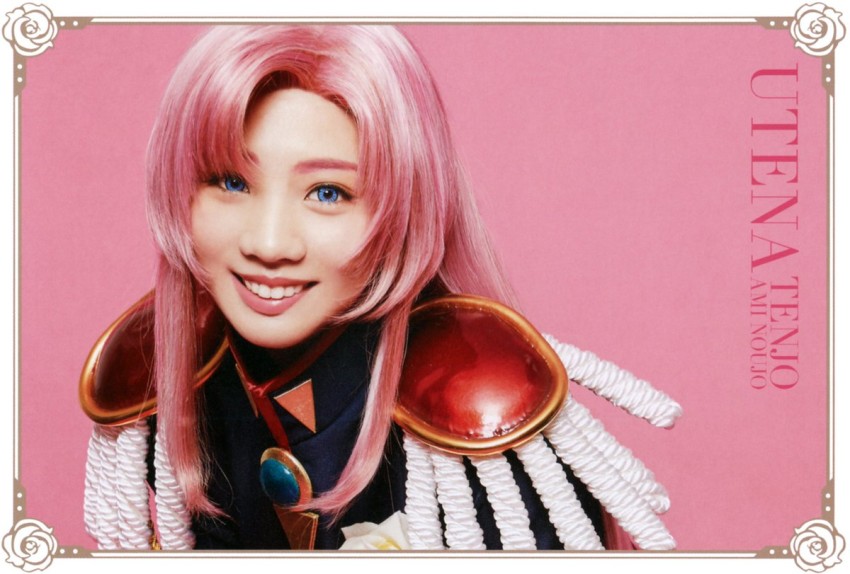 Two further musicals followed rapidly, from production companies Gesshoku Kagekidan in 1999 and Fantasy Adventure in 2000. The 20th anniversary Utena musical, Bud of the White Rose (pictured) opened in 2018 and adapted the Student Council arc from the original anime. The production was supervised by Kunihiko Ikuhara, although the writer-director was experienced musical hand Kotaro Yoshitani. The pair followed this in 2019 with GRU: Blooming Rose of Deepest Black, based on the Black Rose arc. The fossil record is clear: Utena is rooted deep in Japanese musical theatre.
The entertainment market and the media that deliver its product have both changed radically since the turn of the millennium.  Rose of Versailles was already twenty years old when Utena made her TV debut. Western distributors played up the tenuous connection with Bandai's mass-market merchandise generator Sailor Moon, whose power in both the Japanese and the American markets was a known commodity. Advertised as from "the team who brought you Sailor Moon", Utena boasted neither Sailor Moon's creator Naoko Takeuchi, nor its original director Junichi Sato. It does feature one of Sailor Moon's series directors, Kunihiko Ikuhara, but if we're looking for roots, maybe we should look outside anime altogether.
Utena's framing and cutting are reminiscent of a wide range of comedy and sitcom stereotypes dating as far back as the title cards and cut-out frames of movies from the 1920s. The motivations of its characters also flirt with traditional Americana. Some characters resonate with old-school assumptions about the role of women drawn from American media of the 1950s and 1960s. These assumptions were brought to Japan with the Occupying forces after World War II and continued as America continued to infiltrate Japanese culture.Most new Utena viewers will miss their resonances altogether, but their cumulative influence is considerable.
Yet Utena skirts these dangerous waters with considerable skill, never throwing out the female-empowerment baby despite loading the bathwater with old-school tropes. Its characters are genuinely engaging, their diva-in-overdrive or downtrodden attributes and high-contrast worldviews the eternal takeaway of teen dramas. Its more reflective moments are as cleverly engineered as stealth bombers. Its extravagant set-pieces give an object lesson in mainlining straight to the visual cortex.
The links to Western visual culture are especially interesting in the context of Japan's nascent theatre trend, 2.5Dimension Musical Theatre, usually known as 2.5D.  Taking the outrageous extravagance of Takarazuka and the primal energy of the original kabuki theatre, 2.5D layers on video projection, lighting and music, mixes in ancient production techniques, and adapts its stories from currently popular anime, manga and video games. It aims to pull in young audiences who would not normally venture into a theatre, and is doing its utmost to be internationally viable, with occasional shows in Asia, the USA and Europe and innovative theatre glasses offering subtitles in four languages. The term and concept originated with producer Makoto Masuda in 2014, although it has echoes of side-show spectacles from a hundred years earlier, like the rensageki drama that mixed cinema and theatre. In 2017, the most recent year for which I have data, there were 171 2.5D productions in Japan, many of them using techniques learned not only from the ancient and modern stage but from the framing and cutting of late 20th century anime such as Utena. They played to over 2.2 million theatregoers.
Sub-plots revolve around around the main strands of Utena's search for her prince and the shadowy political motives of the secret organisation End of the World. The timing of character revelations is subtly excellent.  Utena's klutzy pal starts out stupid, then displays unexpected strength of character. Just when you're annoyed enough to slap passive damsel-in-distress Anthy, a UFO-catcher prize for the top gun of Otori Academy, she displays hidden humour and strength. Utena herself faces internal conflict, betrays and is betrayed. Her struggles with herself, with her friends and classmates are more terrifying than merely duelling with an enemy. In an alternate world chillingly predictive of the modern Internet, despite the fact that it communicates by letter, hidden identities and false motives are used to crush the brave and dominate the unwary. Anyone can be brought down by failings they thought hidden. This year's favourite is next year's forgotten loser.
There are some wonderfully observed cameos of playground life and pre-teen romantic fantasy. At least one of the writers on this team knows how teenagers think and dream. Today, demonstrations of gossip as a weapon of aggression read like disturbing predictions of the misogyny of 21st century social media. The main hetero "romances" are chillingly accurate predictions of the way many men today stalk and brutalise women both off and online, cheered on by a yapping chorus of nameless idiots.
For me, the most interesting of Utena's plot strands cement the work as a brilliant (though probably accidental) piece of predictive text. Can the ideals of innocence defeat an opponent who uses the cynical privilege of adulthood? And what happens to a girl who devotes her life to becoming what most men fear – competition?
If we look at the current climate of ferocious backlash against any women who resist or protest inequality – at #Gamergate, at #MeToo, at the regular online trolling of women with opinions, at the number of people who hide behind online tags to proclaim themselves against social justice – Utena's world of young women attacked and abused by men and betrayed by other women is as devastatingly real as the alienation and abandonment of young people played out as a giant robot show in Evangelion.
From its prehistory through its growth out of anime and musicals, the evolution of the revolution in Utena has turned into a reality more chilling, and more convincing, than we could have anticipated in 1997.
Helen McCarthy is the author of A Brief History of Manga.
Revolutionary Girl Utena is released on UK Blu-ray by Anime Limited.
Source link