"A Team Together"
Game Info:
System: PS5/PS4, PC, Nintendo Switch, PC, Xbox One, Xbox One X/S
Publisher: WayForward, Arc System Works
Developer: WayForward
Release Date: November 15, 2022
Long ago RWBY—created by the late Monty Oum—had the anime community wondering is this brilliant CGI series an anime? Well with the release of RWBY Ice Queendom fans—us included here at Honey's Anime—can at last say RWBY is an anime! That discussion aside, being an anime, one can only hope more games are released that include the stellar cast of RWBY, and maybe our prayers have been heard with WayForward and Arc System Works newest game, RWBY: Arrowfell! We saw several trailers of RWBY: Arrowfell at Anime NYC 2022 and we couldn't wait to get our gaming hands on this title! Finally, we have played it but is this the RWBY game we wanted, or has it reminded us that not all anime games are that great? We find out in our review of RWBY: Arrowfell for the PS4!
Unlike the last RWBY game that was released a while back—RWBY: Grimm Eclipse, this title is less multiplayer-focused and more akin to a singular adventure.
Players take control of team RWBY which consists of Ruby Rose, Weiss Schnee, Blake Belladonna, and Yang Xiao Long, four huntresses who wish to prove their worth in this dangerous land they call Remnant. Taking place during season 7—which was incredible, might we add, RWBY has been called on a new mission to stop various evil forces roaming the land. We really loved that this feels like an RWBY season rather than how the last game felt, which was too much like a side story. You don't need knowledge of season 7 to play RWBY: Arrowfell but several characters and story elements help you get maximum enjoyment if you do.
Aside from the story though, RWBY: Arrowfell doesn't just deliver a good story but it also has a bunch of gameplay mechanics that will appeal to those who like Megaman and Castlevania!
RWBY: Arrowfell is a 2D adventure game that throws in some ranged combat, some puzzle platforming, and beat 'em up mechanics for a rather fun experience. Each of the members of team RWBY have their individual powers that will help players move about the various maps and reach certain locations. Weiss can use her semblance to activate platforms, Yang can bust up large rocks, Ruby can literally fly for several seconds and Blake can make shadow clones act as weights on switches. It might seem very methodical and definitely has been done before in other games but we liked how the puzzles aren't always the main focus of RWBY: Arrowfell.
You'll have to use the girls to also fight against various Grimm and bosses, and each plays similarly with a ranged/close attack but they all can be used differently depending on the player. Ruby is perfect for those who like to hit quickly and dodge while Yang is a powerhouse that just punches with explosive hits. Be warned though, the entire team shares a singular set of hearts/energy—the latter acting like armor—and if anyone dies the mission ends and you'll be sent back to the beginning of the stage or to your last saved location! Luckily, there are a slew of hearts to find and save stations in RWBY: Arrowfell, making it not too difficult but just right.
We also like that exploring leads to finding various upgrade skill shards that can be used to enhance your favorite characters. Don't feel bad if you were like us and made Yang the strongest.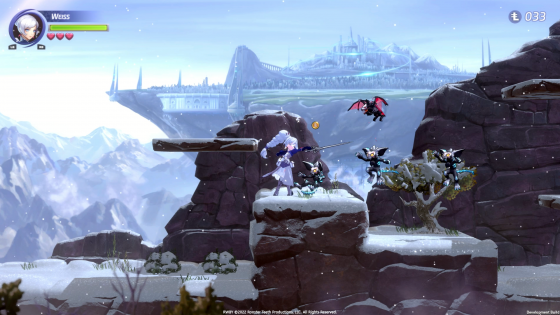 Fans of the absolutely incredible music of RWBY will be happy to hear this…Jeff Williams and Casey Lee Williams have returned to lend their talents with RWBY: Arrowfell! From the starting first stage to the later ones, the OST for RWBY: Arrowfell is perfection, making you feel as if you're entering a battle from the show! Our only complaint is…we need more, as we could listen to RWBY: Arrowfell's soundtrack on repeat and for hours on end!
Visually, RWBY: Arrowfell is pretty impressive with some great still art designs of the various characters and enemies. We also love that occasionally, the game will switch to the animated version for cutscenes mirroring the more recent seasons of RWBY in all of its glory! However, RWBY: Arrowfell also seems to utilize the same designs a bit, too much. Levels all feel similar, enemies feel repeated, and even the way of handling enemies can feel…like, déjà vu is hitting hard. We also really don't like that there is no mini-map or menu map. Traversing levels will have you constantly hitting dead ends or pathways you've been to before which could have been avoided with some map. The maps aren't too huge so yeah it's a mild annoyance more often than not but it is still annoying. We do hope DLC comes out with some new locations or maybe pays homage to earlier seasons but don't feel bad if you enter an ice cave/dungeon and feel like it was the same as two levels ago.
---
---
Source link