Welcome everyone, to another week of Spy X Family! This is another pretty slow week all things considered, another pair of jokes without much going on. While rather cute in execution, I continue to want something a bit more from the series. I'm ready to have my heartstrings pulled again, you know? Anyways, without further ado lets jump into the episode, shall we?
So like I said, this week was another pair of gag episodes, with the first half being all about Anya exploring Loid's job. This was cute! There were some fun gags in here, a cute Sherlock Holmes outfit, some spy shenanigans. As far as comedy goes, I think SpyXFamily nailed a lot of the jokes here. Perhaps my favorite was Yor's imagination of taking Anya out and showing off her own job. Not working at the capital building, but being an assassin. The little ninja run, Anya's smaller version of the outfit, the brightly colored blood. It was a great sequence, with some good action animation for Yor. Beyond that though? There wasn't really anything of substance. Nothing narratively noteworthy or important. Just a bunch of amusing jokes for a wholesome episodic experience. Like I said last week, for some that's going to be great. But I need something more.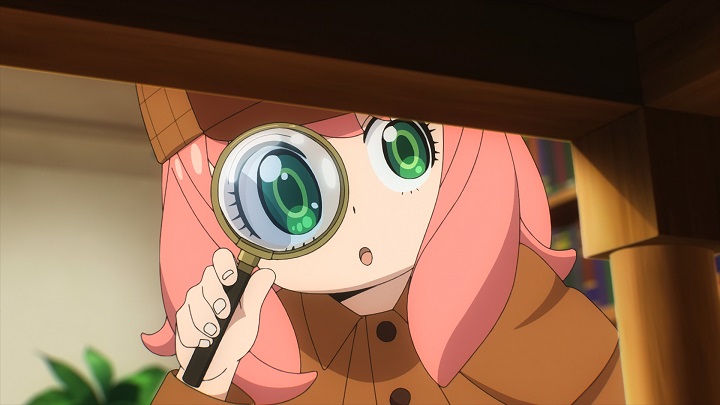 On that front, the only thing even approaching that substance was a look into why Loid chose this job. The opportunity to network, it being an important hospital, the possibility of being called into the Desmond household if he got sick, plus all the other spy stuff. Anya gave us a look into Loid's head as he walked her around the hospital and I thought it was all rather interesting. On top of that, Anya's report about his job at the end, and the way she mixed up his spy language and his doctor job, was pretty funny. I loved the teachers reaction plus the small follow up of Loid getting called to school to explain Anya's report. Again, nothing particularly substantive, but a fun time nonetheless.
Sadly the second half of the episode didn't even have that. Where the first half, Anya's hospital visit, had plenty of jokes and cute outfits, this second half had a single joke that it played out for 7 minutes. It was cute I suppose, Anya's little secret code game getting taken seriously after she through it around at everyone she could, as well as Franky mistaking Yor's perfume as a love letter. But I thought it went on longer than it needed to and, once again, there wasn't anything to really sink our teeth into with it. All in all, I found this second half to be a bit of a disappointment honestly
Source link