[ad_top1 class="mb40″]
[sourceLink asin="" asin_jp="" cdj_product_id="" text="twitter" url="https://twitter.com/OPcom_info/status/1448574305025945609?s=20″ ]
Anime is no stranger to epic battles that keep us on the edge of our seats, and with fan favourites like Demon Slayer and Jujutsu Kaisen continuing to reign supreme, new series such as Chainsaw Man made waves in 2022 and delivered some of the best anime fights we've seen in a while. And as art styles and animation quality improve over time, new methods and technologies enable more visually stunning and dynamic battles.
So as we gear up for another year of anime greatness, let's take a moment to appreciate the heart-pumping, jaw-dropping, and awe-inspiring fights that have kept us glued to our screens. From the classics to the newcomers, we'll be looking at the top five anime fights of last year that left us breathless and hungry for more.
[ad_top2 class="mt40 mb40″]
5. Pucci vs Jolyne Cujoh (Jojo's Bizarre Adventure: Stone Ocean)

[sourceLink asin="" asin_jp="" cdj_product_id="" text="imdb" url="https://www.imdb.com/title/tt2359704/mediaviewer/rm3784062977?ref_=ttmi_mi_all_sf_124″ ]
JoJo's Bizarre Adventure is renowned for its intricate and dynamic fight scenes, and the battle between Pucci and Jolyne in Part 3's Stone Ocean is no exception. This encounter showcases the mastery of the anime in terms of animation, music, and overall art direction. The use of colour and lighting in this stunning anime has shaped the story and the themes it chooses to convey. The result is an aesthetically pleasing display that is sure to leave viewers captivated.
The fight ended up feeling different from previous final battles, as the characters were in a battle that had more than their lives on the line. It featured a showcase of quick wit and cunning, with one of the more intense moments being when Pucci attempted to use his Stand to turn Jolyne's heart inside out. This move would have spelled defeat for any other anime character, but Jolyne outsmarted Pucci by using her Stand, Stone Free, to turn her torso into a Mobius strip. This is a testament to Jolyne's intelligence and resourcefulness, and it highlights the masterful character writing that is a hallmark of JoJo's Bizarre Adventure.
---
4. Bojji vs King Bosse (Ranking of Kings)

[sourceLink asin="" asin_jp="" cdj_product_id="" text="imdb" url="https://www.imdb.com/title/tt13409432/mediaviewer/rm1182735105?ref_=ttmi_mi_all_sf_13″ ]
Ranking of Kings Episode 21 was a monumental moment for the series, leaving viewers in awe. The emotional and action-packed battle between Prince Bojji and King Bosse, his father, was the main highlight of the episode. Bojji overpowered King Bosse and emerged victorious, marking history as he defeated the man who was believed to be the strongest in the world and became the new king.
The episode also highlighted the consequences of King Bosse's actions, with the expertly crafted narrative showcasing the characters' inner conflicts. A shocking twist in the episode revealed King Bosse to be a manipulative and selfish person lacking empathy, which was a well-done portrayal of his character that allowed the audience to understand why he acted the way he did. In conclusion, the battle was a pivotal moment for Bojji, as it tested his bravery and strength, and showed the growth of his character.
---
[ad_middle class="mb40″]
3. Luffy vs Kaido (One Piece)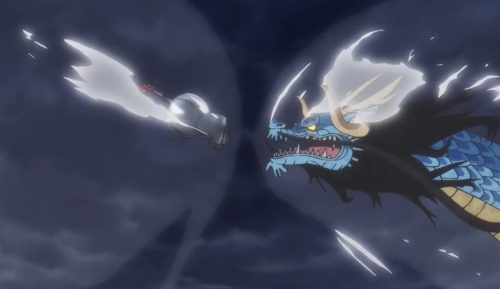 [sourceLink asin="" asin_jp="" cdj_product_id="" text="imdb" url="https://www.imdb.com/title/tt11411938/mediaviewer/rm1118929665/" ]
One Piece has always been known for its unorthodox characters, fantastic storytelling, and unprecedented levels of foreshadowing. And the Luffy vs Kaido fight is just one of the many reasons why this anime continues to captivate audiences and leave them eagerly waiting for more.
The second encounter between Monkey D. Luffy, and the infamous pirate king, Kaido, is a prime example of Toei's ability to animate with a mastery that rivals even the best studios. With Wano and the lives of thousands on the line, Luffy clashes with Kaido during the raid on Onigashima by the Akazaya Nine. The battle is intense and visually stunning, with flashy displays of their Conquerors Haki as they bashed at each other over and over again. Kaido grew increasingly amused with Luffy's spirit and thrill for action, acknowledging him as a worthy opponent akin to Oden. And despite losing out to the Captain of the Beast Pirates and being thrown off the island, this is not the end for the determined pirate.
---
2. Denji vs Katana Man (Chainsaw Man)

[sourceLink asin="" asin_jp="" cdj_product_id="" text="imdb" url="https://www.imdb.com/title/tt24438514/mediaviewer/rm869416705?ref_=ttmi_mi_all_sf_35″ ]
Another contender for the fight of the decade is the tussle between Denji and Katana Man from the Chainsaw Man anime – the ultimate representation of the showdown between the Public Safety team and the menacing forces that threatened them. The scene is a stunning combination of horror and action that created a pulse-pounding experience. The accompanying animation and voice acting are simply remarkable, elevating the intensity of the scene. And even the musical score heightens the drama and adds to the overall viewing experience.
The fight starts with both opponents engaging in conversation. Katana Man tries to convince Denji to surrender, but Denji refuses to back down. This leads to a heart-stopping battle on several building rooftops and a stopped train. The two pound each other with a series of blows, with Katana Man initially gaining the upper hand by cutting off Denji's arms. But even with his broken chainsaw, Denji refuses to give up and in the final stand-off, manages to come out on top by using a chainsaw that unexpectedly sprouts from his leg. This scrabble between them perfectly captures what makes "Chainsaw Man" such a captivating and expertly crafted anime as it showcases the anime's ability to seamlessly blend genres, creating a truly remarkable experience.
---
1. Tengen, Nezuko, Zenitsu, Inosuke & Tanjiro Versus Daki & Gyutaro (Demon Slayer)

[sourceLink asin="" asin_jp="" cdj_product_id="" text="twitter" url="https://twitter.com/kimetsu_off/status/1492467268764143617?s=20″ ]
For three straight, mind-blowing episodes, Demon Slayer undoubtedly delivered what was the best fight scene in all of anime this year. The fight between the Hashira & his crew versus Daki and Gyutaro in the Entertainment District Arc of Demon Slayer was an intense battle full that literally blew minds – Ufotable once again delivered well-executed scenes that left viewers in awe and the soundtrack contributed to the atmosphere of tension and emotion during the fight.
The fight was an absolute nail-biter from beginning to end. Fans had no idea how the battle would turn out, and the intense scenes with excellent visual quality full of action, suspense, and adrenaline left us holding our breath. The sibling story of Daki and Gyutaro was the most tragic story told in Demon Slayer so far, as it added depth to the characters and made their battles feel more meaningful. We see Nezuko lose control of herself while fighting Daki, and Tanjiro and Tengen were critically injured. Inosuke was stabbed in the heart by Gyutaro, and Tengen was missing an arm. The Demon Slayers had to work together to simultaneously decapitate the two upper six demons, an impossible feat executed miraculously and magnificently.
---
Final Thoughts
In conclusion, the year 2022 has been a fantastic one for anime fights, with plenty of new shows and seasons introducing us to some unforgettable battles. From epic showdowns between powerful warriors to strategic duels between masterminds, this year has given us a plethora of incredible moments that have left us on the edge of our seats. We hope you enjoyed our list. Don't forget to share your thoughts with us in the comments below and let us know which fights you would add to the list.
[author author_id="" author="Ahmad Animasaun" translator_id=""] [ad_bottom class="mt40″]
---
[recommendedPost post_id='350076′ url="" title="" img=" class="" widget_title=""] [recommendedPost post_id='348341′ url="" title="" img=" class="" widget_title=""] [recommendedPost post_id='57285′ url="" title="" img=" class="" widget_title=""] [recommendedPost post_id='321252′ url="" title="" img=" class="" widget_title=""]
Source link